Bob Assistant
embedded artificial intelligence for predictive maintenance
The turnkey solution to monitor your machines 24/7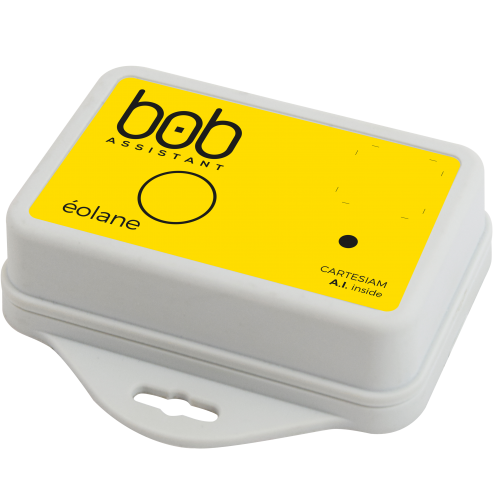 YOUR MACHINES WORK 24/7. BOB ALSO.
BOB Assistant is a turnkey solution that alerts you in real time on the operating status of your machines.
Prevent failures and reduce downtime with the power of artificial intelligence and connected objects ...
... and deploy factory 4.0 with zero infra, zero cabling and zero configuration!

INTELLIGENT
Bob learns quickly and well! It applies analysis algorithms embedded in its sensor to understand and monitor each of your equipment. Receive alerts online or on your mobile.

SIMPLISSIME
Zero infra, zero wiring, zero configuration. To install Bob, just put it on your equipment. Bob works independently for several years.

CONNECTED
BOB communicates via LoRa® network, perfectly adapted to the Internet of Things (IoT). Maximum range for minimal energy consumption!

SECURED
Your production data is safe with BOB. It retains them and sends only encrypted scan reports to the cloud.
The reports and analyzes of your BOB assistants are organized and grouped together in a dedicated web space: manage your sensors and your users, consult your reports, export your data and configure the actions related to the alarms issued by BOB, on a unique and customizable platform.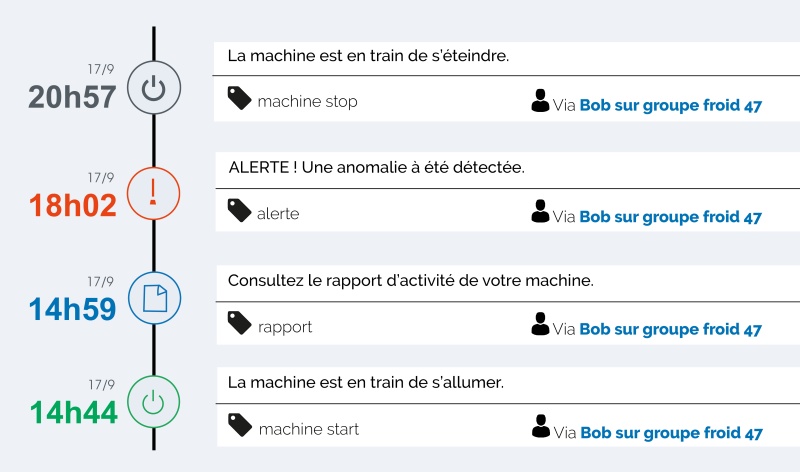 BOB communicates continuously through a thread, the LIVE STREAM,. It allows you to navigate the history of reports and alerts.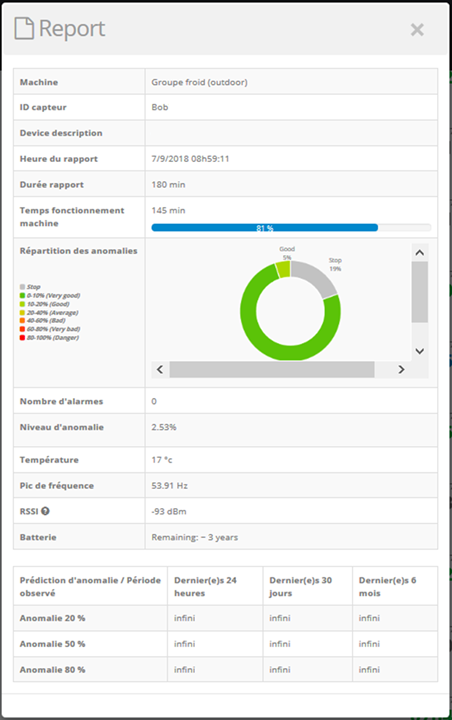 By clicking on the report icon, you can access essential information about the activity and health of your machine during the period considered: operating rate, level of failure, temperature, battery life ….In each report, Bob predicts the level of failure to come, from the vibrations observed since 24h, 30 days and 6 months respectively. You can be aware of the slow and fast drift of your machine, anticipate breakdowns and plan maintenance operations accordingly.Reading: Your machine will reach an average level of anomaly of [20, 50, 80]% in [n] days, according to the vibratory analysis of the last ones [24h, 30 days, 6 months]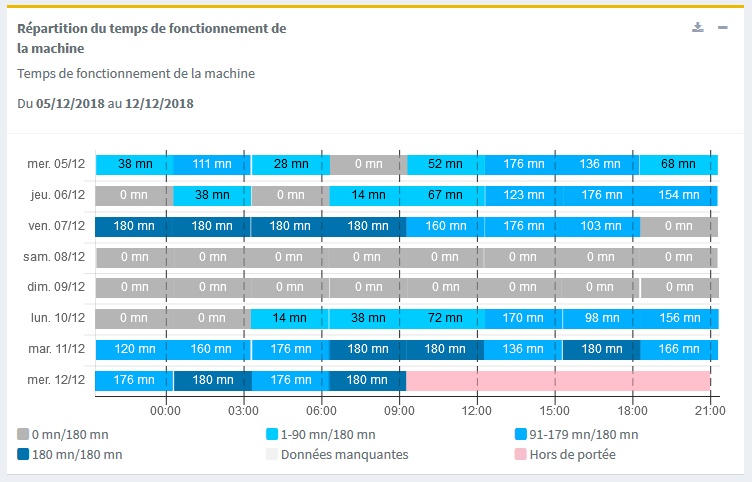 In the analysis section, or Analytic, check the details of the operating times of your machine, for the period of your choice.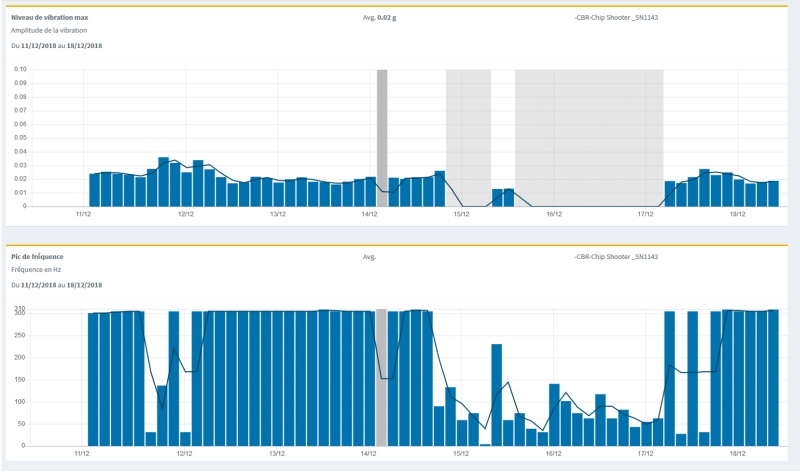 Follow the evolution of amplitudes and frequencies of vibration.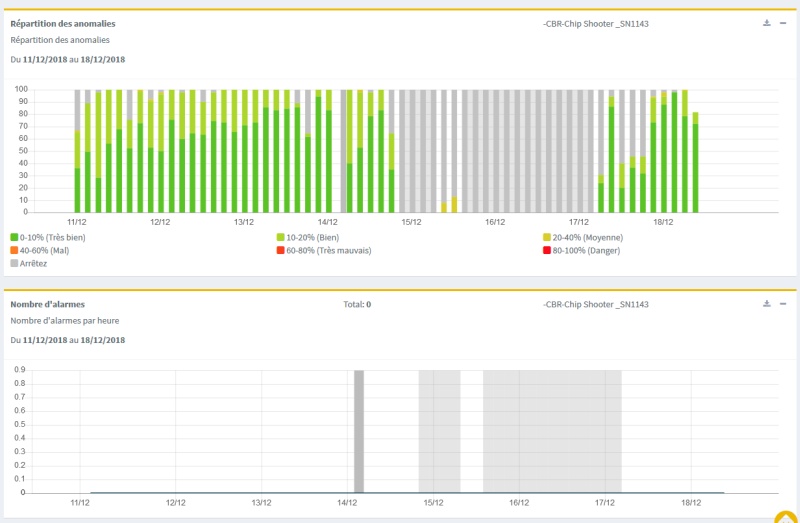 Bob assists you in the analysis of measured physical data, and gives you the breakdown of failure levels over time.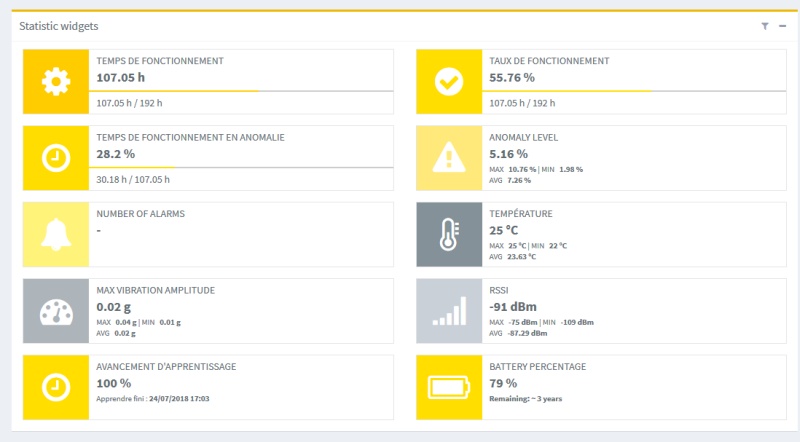 Configure and personalize your alarms to alert your employees in case of important events in your eyes (machine shutdown, temperature threshold exceeded …)
Our team deploys Bobs every day on new equipment and accumulate multiple use cases. There is almost no limit to the use of BOB!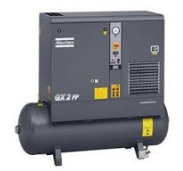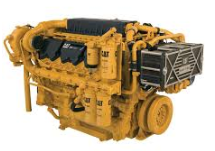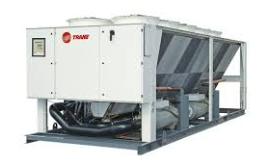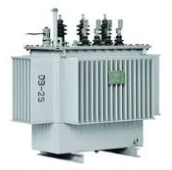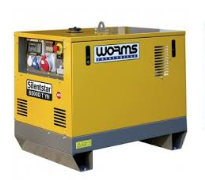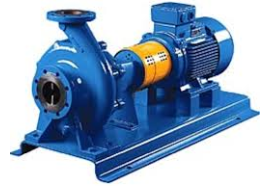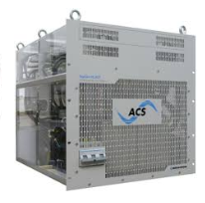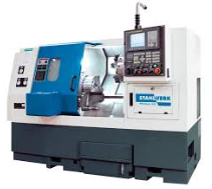 3 STEPS TO START BOB EXPERIENCE
GET CONVINCED BY BOB!
BOB-IN-THE-BOX is an 'all inclusive' offre that allows you to test BOB in the best conditions!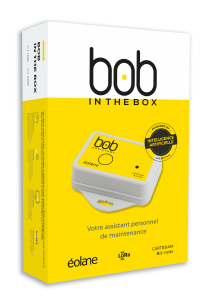 Sensor
6 axes accelerometer and gyroscope; 7Hz to 1000Hz vibration measure.
Firmeware
Autonomous learning and reporting by Artificial Intelligence, embedded by Cartesiam
Power supply
Nominal autonomy: 2 years
Casing
IP 68 case in Polyamide
Footprint: 76 x 79 x 23 mm (incl. fixing lug)
Radio
Max transmission power 25mW in the radio band 868.0 to 868.6MHz
LoRa 1.0 Class A, Class C (compatible), SF6-SF12
LoRa sensitivity : -137 dBm
Temperature Range
Storage: -25°C à 55°C
Operating: -20°C à +55°C
Test & Qualifications
CE marked, qualified for industrial use EN 61000-6-2
ETSI EN 300 019 :
Storage: Classe 1.2 Part 1.1
Transport : Classe 2.3 Part 1.2
Operating: Classe 5.2 Part 1.5
LEARN MORE!
Need to better understand the offer, to know if your use case is compatible with BOB, to know our customs offers?
Meet our teams on the major European exhibitions. Our teams will be happy to give you demonstrations and share their experience!
Smart Industries
du 5 au 8 mars 2019
EUREXPO – LYON – FRANCE
MtoM – Objets Connectés et Communicants – IIoT
20 & 21 mars 2019
Paris, Porte de Versailles
HANNOVER MESSE 2019
du 1er au 5 Avril 2019, Hanovre, Allemagne